Sky-Tech SERVICES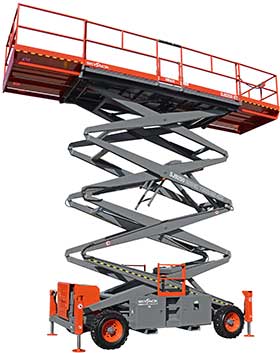 EQUIPMENT RENTAL
Sky-Tech Equipment offers Mobile Elevated Work Platforms such as scissorlifts and boomlifts with reaches up to 135 feet. Sky-Tech Equipment also rents telescopic and conventional forklifts, loader/backhoes, skidsteers, mini excavators, packers/tampers, compressors, light towers, heaters, generators, and trailers.
Sky-Tech Equipment rents a wide range of equipment for a range of applications; compaction, construction, digging, elevating, gardening, lifting, plumbing, propping, roads, traffic control and transportation to name a few. We rent to general contractors, plumbing and electrical contractors, agriculture plants and terminals, farming, oil and gas industries, excavation companies, mining companies, power line contractors, landscapers and to the general public. There is no job too small.
EQUIPMENT SALES - NEW AND USED:
Having many relationships with various companies in the equipment world Sky-Tech Equipment is able to offer new and used equipment for sale. Not only will we back the equipment we sell, the companies we work with have very good support networks allowing us to access the resources we need to ensure we can do that.
Sky-Tech Equipment also backs our used equipment with in house warranties and rent to purchase options. Sometimes if you are unsure if the equipment is right for you, with the rent to purchase option you can make that decision after using the machine. If this is an option you would like to consider on one of our "inventory items", "contact us" and ask us about a rental purchase option.
EQUIPMENT TRANSPORTATION
Knowing it is not easy finding transportation options, Sky-Tech Equipment offers it's own transportation service to get the machines to and from the job. Having a small fleet of truck and trailer options allows us to dispatch our own equipment and give accurate delivery and pickup times at competitive rates. Most of our trailers have a self loading option eliminating the need for on-site docking, which allows Sky-Tech Equipment the ability to offload at various sites with ease.
Not only do we transport our own equipment but are able to transport a wide variety of construction equipment for our customers. Transport rates can be discussed with the rental desk.
EQUIPMENT MAINTAINACE AND REPAIR
Having a maintenance program is essential to ensuring your equipment stays running and increases up-time on the job site. Sky-Tech Equipment is a firm believer in keeping things serviced to manufactures recommendations. We understand that our customers work on timelines and can't afford any downtime because of equipment. Another service that we offer our customers is regular routine maintenance of equipment. Either in shop or in the field the solution to the problem can be found.
CONTRACTOR EQUIPMENT REPAIRS:
In addition to equipment rental, Sky-Tech Equipment also provides complete contractor equipment repair and maintenance services -- including for customer owned equipment. We also do JGL Warranty work.
Contact us for our equipment price list, service and transportation rates.