ABOUT SKY-TECH EQUIPMENT
Sky-Tech Equipment started in North Battleford, Saskatchewan in 1994. Family owned and operated, it all started with one skid steer, dump truck and a trailer, followed by a scissor-lift and a few telehandlers. Over the years, Sky-Tech Equipment has expanded and adapted to meet the needs of our customers. We service all types of industry such as oil & gas, agriculture, and construction and have satisfied customers across not only Saskatchewan, but Manitoba and Alberta as well. To date we have over 300 pieces of equipment consisting of scissor-lifts, boom-lifts, telehandlers, forklifts, skid-steers, mini-excavators, heaters, light towers, generators, compressors, etc…
What sets us apart from our competitors is the service that we offer. Our fleet is kept current and maintained to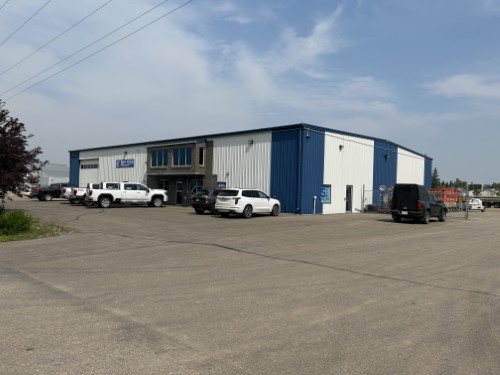 manufacturer's specifications. With qualified Service Technicians we offer full service of not only our fleet, but customer owned units as well. We understand that our clients work on timelines and can't afford any downtime because of equipment breakdowns and as such, if a unit breaks down and can't be up and running quickly we will replace it with another unit. Customer satisfaction is our number one priority and we provide efficient friendly service in efforts to achieve this.
At Sky-Tech Equipment, we believe in giving back to the community in which we live and work, whether it be with donations to the local kids who come in for support for their sports teams or clubs, donations to local organizations that need support to make their events successful, or programs such as "Saskatchewan Hospital New Beginnings" which supports mental health care for the citizens of Saskatchewan. We realize that our success over the years has not only been with lots of hard work, but has been in part of the support of our customers and community. We believe that we have a responsibility to give back to our community, and in doing so it creates a virtuous cycle that makes everyone successful.
In efforts to better serve our customers, Sky-Tech Equipment has recently become SECOR certified and is committed to providing a safe and healthy work environment. In efforts to ensure and improve safe work practices and operations, we believe in continuous training. Safety is at the top of our objectives with Mission Zero as our goal. Our staff have taken the necessary site orientations on most oilfield sites and construction sites in our area. We have installed the necessary accessories on our equipment such as positive air shut downs so that our equipment can be accessible on certain sites. We strive to serve our customers to the fullest by taking care of all their job site needs.
Sky-Tech Equipment continues to grow in the Battlefords, and we choose to make the Battlefords our home because it is a great community to raise our families in, and we see plenty of opportunity for growth and development here in the Battlefords.